TRAINING TIPS
10 Pounds of Muscles in 4 Weeks
By
|
Advertisement
With combined training and nutrition, this two-phase program will get you started on your 10 pounds of muscle gain.
WEEKS 1-2: HEAVY HITTER
It's all about lifting heavy in this phase. You'll do this with mass-building compound exercises.
All reps, except for the abs and calves, fall in the 6-8 range. Those who had been doing 8-12 sets need to go heavier.
Volume here isn't excessive. You'll do 11 sets total for large muscle groups and train each body part once a week to pack on tons of mass. You also need ample recovery time.
Doing endless sets in each workout puts you in a catabolic state in which lean tissue gets broken down, not built up. Gaining 10 pounds of muscle in a short period needs the right balance of volume to rest and recovery.
The four-day split pairs a large body part (chest, back, shoulders, quads/hams) with one or two smaller muscle groups (tri's, bi's, traps, calves, abs) in each workout.
1-7 DAY: HEAVY HITTER
DAY 1 CHEST & TRICEPS
DAY 2 LEGS, CALVES & ABS
DAY 3 SHOULDERS & TRAPS
DAY 4 BACK, BICEPS & ABS
DAY 5 REST
DAY 6 REST
DAY 7 REST
WEEKS 3-4: INTENSITY BOOST
This second half of the program is on maximizing size with slightly higher reps and an emphasis on intensity. Rep ranges move up to 10-12 for most exercises, ideal for promoting muscle hypertrophy (growth).
Isolation exercises get added. You'll do them before compound movements for your chest, back, shoulders and legs.
Each workout includes drop sets to increase intensity, but for only one set per body part.
8-14 DAY: HEAVY HITTER
DAY 8 CHEST & TRICEPS
DAY 9 LEGS, CALVES & ABS
DAY 10 SHOULDERS & TRAPS
DAY 11 BACK, BICEPS & ABS
DAY 12 REST
DAY 13 REST
DAY 14 REST
15-21 DAY: INTENSITY BOOST
DAY 15 CHEST & BACK
DAY 16 LEGS, CALVES & ABS
DAY 17 SHOULDERS & TRAPS
DAY 18 TRICEPS, BICEPS & ABS
DAY 19 REST
DAY 20 REST
DAY 21 REST
22-28 DAY: INTENSITY BOOST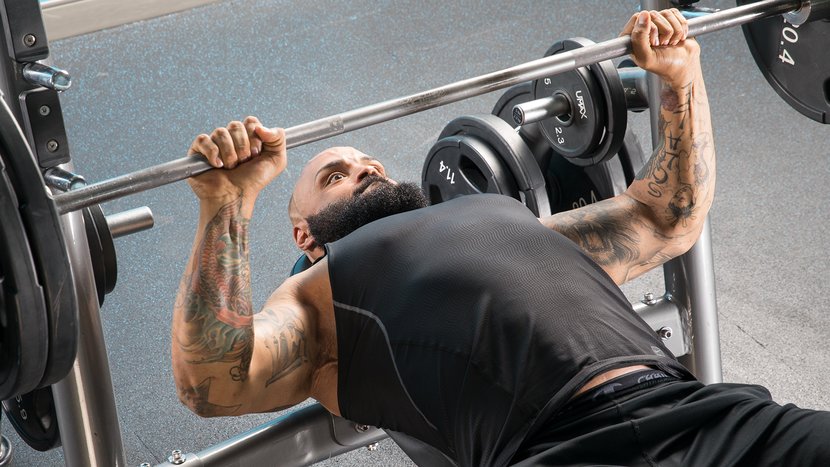 DAY 22 CHEST & BACK
DAY 23 LEGS, CALVES & ABS
DAY 24 SHOULDERS & TRAPS
DAY 25 TRICEPS, BICEPS & ABS
DAY 26 REST
DAY 27 REST
DAY 28 REST
Advertisement