NUTRITION & SUPPLEMENT
7-Day Oatmeal Diet Plan to Jump Start Weight Loss
By
|
Advertisement
If you tried all diets but gained the weight back as quickly as you lost them, try the oatmeal diet.
The meal plans here are low-calorie and low-fat with healthy food choices.
Oatmeal helps with your weight goals because its fiber makes you feel full longer.
There are variations of the oatmeal diet. This oatmeal diet has three stages for a total of 30 days.
During the first two stages, you replace one or two foods a day with oatmeal espanolfarmacia.net.
The third phase starts after the first 30 days of eating oatmeal. After that, return to your standard diet eating oatmeal only once per day.
Day 1
Breakfast
1 glass of warm water
1/2 cup oatmeal
1/2 cup skim milk
1 banana
Lunch
1/2 cup oatmeal
1/2 cup low-fat yogurt
1 peach
Snack
Blueberries
Dinner
Large vegetable salad
1/2 cup oatmeal with milk
Day 2
Breakfast
1 glass of warm water
1/2 cup oatmeal
1/2 teaspoon cinnamon
1/2 cup skim milk
Lunch
1/2 cup oatmeal
1/2 cup low-fat yogurt
1 apricot
Snack
1 apple
Dinner
Steamed chicken breast
1/2 cup oatmeal
1 carrot
Day 3
Breakfast
1 glass of warm water
1 cup of tea
1/2 cup oatmeal
1 cup strawberries
1/2 cup skim milk 
Lunch
1/2 cup oatmeal
1 cup cherries
1/2 cup yogurt
Snack
Yogurt with sliced fruits
Dinner
Steamed fish fillet
Brown rice
Fresh salad
Day 4
Breakfast
1 glass of warm water
1/2 cup oatmeal
1/2 cup skim milk
1 banana
Cup of coffee 
Lunch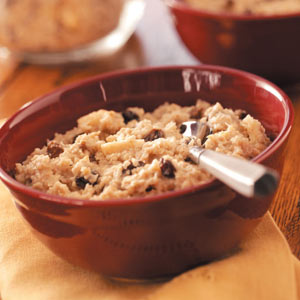 1/2 cup oatmeal
1/2 cup skim milk
1 tablespoon raisins
Snack
2 small kiwi
Dinner
White rice
Vegetable salad with feta
Day 5
Breakfast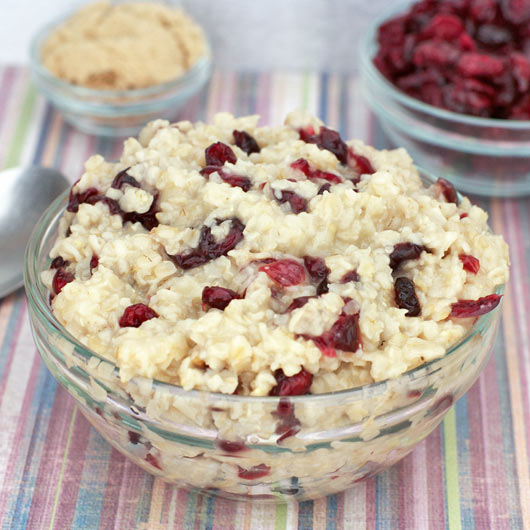 1 glass of warm water
A plate of oatmeal with cranberries
Lunch
1 glass warm water
1/2 cup oatmeal
1/2 cup non-fat yogurt
1 cup blueberries
Snack
Low-fat oatmeal cookies
Dinner
1 glass warm water
Grilled vegetables
Day 6
Breakfast
1 glass warm water
1/2 cup oatmeal
1/2 cup non-fat yogurt or milk
1 apple
Lunch
1 glass of warm water
1/2 cup oatmeal
1/2 cup milk
1 teaspoon cinnamon
Snack
A handful of almonds
Dinner
1 glass of warm water
Boiled chicken breast
2 cucumbers
Day 7
Breakfast
1 glass of warm water
1/2 cup oatmeal
1/2 cup yogurt
2 apples
A cup of tea
Lunch
1 glass of warm water
1/2 cup oatmeal
1 peach
1/2 skim milk
Snack
2 oranges
Dinner
1 glass of warm water
Chicken soup
Mixed vegetables
Advertisement