TRAINING TIPS
Basic At-Home Workout to Quickly Build Muscle
By
|
Advertisement
Lifters don't like training at home. With all the limitations working out at home brings, many forget that training needs to get changed every now and then for maximum gains.
To start having the same quality gym training right in your own home, you can start investing on kettlebells, dumbbells, stability ball, resistance bands (2-3 of different resistance), suspension trainer (TRX) and a pullup bar that goes in a doorway. Pick up some sandbags at your local hardware store (30-50 lbs) and fill a couple of milk jugs with water or heavier materials.
Here is a 3-day routine using the equipment mentioned to build strength and  target the cardiovascular system. Quick bursts of plyometric moves like tuck jumps or tabata intervals of moves like pushups take care of that. There's a heavy focus on core work so you'll sculpt your abs every day of the week.
1. Do each workout once per week, ideally with a day of rest between each.
2. Do the 3 workouts consecutively, then repeat the 1st workout on Friday of week 1, the 2nd workout on Friday of week 2, and so on.
3. Do a workout followed by cardio or another activity the next day, repeat throughout the week.
Day 1: Upper Body Push
1. Resistance Band Chest Press
Sets: 3
Reps: 8-12
Rest: 45-60
2. Tabata Pushups
Sets: 8
Time: 20 sec (as many reps as possible)
Rest: 10 sec
3A. Military Press (with band, kettlebells, or dumbbells)
Sets: 3-5 (Superset)
Time: 40 sec
Rest: 15 sec
3B. Front Raise, Side Raise, Reverse Fly (with band, kettlebells, or dumbbells)Sets: 3 (Superset)
Reps: 10 (each)
Rest: 45-60 sec
4A. Triceps Press  (with band, kettlebells, or dumbbells)
Sets: 1-2 (Superset)
Reps: 8-12
Rest: 15 sec
4B. Seated Dips
Sets: 1-2 (Superset)
Reps: 15
Rest: 45-60 sec
5. Body Saw
Sets: 1-2
Time: 30-60 sec
Rest: 30-60 sec
6. V-Sit Up
Sets: 1-2
Reps: 15-20
Rest: 30-60 sec
7A.  Crunches
Sets: 1-2 (Superset)
Reps: 15-20
Rest: 30-60
7B. Superman
Sets: 1-2 (Superset)
Reps: 15-20
Rest: 30-60 sec
Day 2: Legs
1A. Hip Thrusts (band or sandbag across hips)
Sets: 3-5 (Superset)
Reps: 15-20
Rest: 15 sec
1B. Kettlebell Swings or Romanian Deadlift (KB, Band)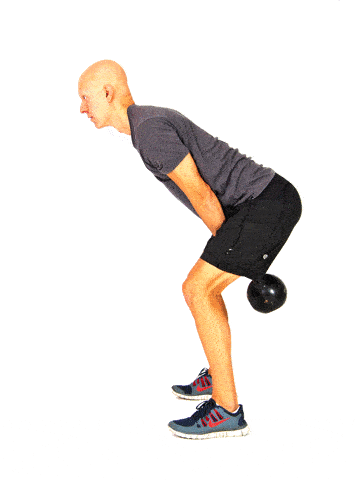 Sets: 3-5 (Superset)
Reps: 8-12
Rest: 60-90 sec
2A. Step Ups (KB, DB, sandbag, or bodyweight)
Sets: 3-5 (Superset)
Reps: 8-12
Rest: 15 sec
2B. Tuck Jumps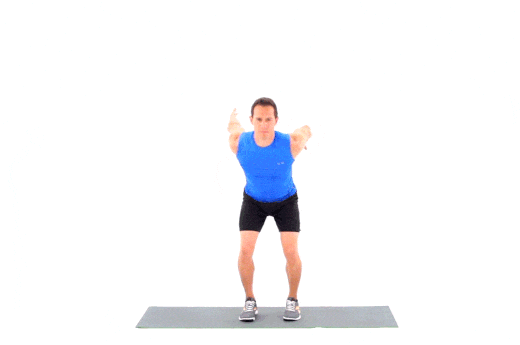 Sets: 3-5 (Superset)
Reps: 5
Rest: 45-60 sec
3. Clock Lunges (KB, DB, sandbag, or bodyweight)
Sets: 3
Reps: 15-20
Rest: 30 sec
4A. Leg Curls (TRX or band around ankles)
Sets: 2-3 (Superset)
Reps: 15
Rest: 45-60 sec
4B. Standing Calf Raise (KB, DB, or resistance band)
Sets: 1-2 (Superset)
Reps: 15
Rest: 45-60 sec
5. Side Planks
Sets: 1-2
Time: 30-60 sec (each side)
Rest: 60-90 sec
6. Bicycle Crunches
Sets: 1-2
Reps: 15-20
Rest: 30-60 sec
Day 3: Upper Body Pull
1. Pullups
Sets: 3-5
Reps: 8-12
Rest: 45-60 sec
2. Renegade Row, Bent-Over Row, OR Band Row (KB, DB, Band)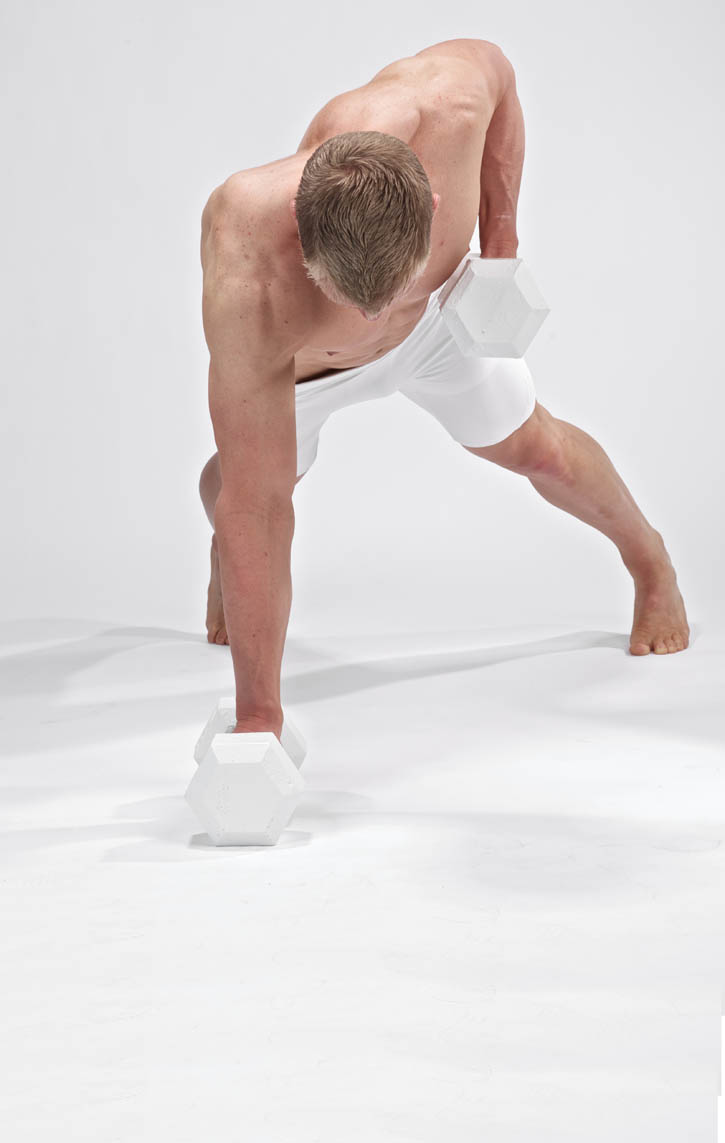 Sets: 3-5
Reps: 8-12
Rest: 45-60 sec
3. Rollout (stability ball or ab wheel)
Sets: 3
Reps: 10-15
Rest: 45-60 sec
4. Biceps Curl (KB, DB, Band)
Sets: 3
Reps: 10 (each)
Rest: 15 sec
5. Band Twist
Sets: 1-2
Reps: 8-12
Rest: 30 sec
6. Good Morning (sandbag, band around shoulders)
Sets: 2-3
Reps: 15-20
Rest: 45-60 sec
7A. Reverse Curl
Sets: 1-2 (Superset)
Reps: 15
Rest: 45-60 sec
7B. Bicycle Crunches
Sets: 1-2 (Superset)
Reps: 40-60 sec
Rest: 30-45 sec
8. Supermans
Sets: 1-2
Reps: 15-20
Rest: 30-45 sec
Advertisement