NUTRITION & SUPPLEMENT
Get a Twinkie Instead of these 8 Fattening Diet Foods
By
|
Advertisement
Yup. Get a Twinkie instead with its 18 grams of sugar totally wiping out your daily sugar quota in one swoop and your craving gets over and done with.
The problem when we eat a diet food is we do it with abandon without ever thinking what made them tasty in the first place.
If you want to stay in your skinny jeans, watch out for these diet foods.
Yogurt 
No doubt that yogurt is one of the healthiest foods around. But if it isn't plain and low-fat, forget it. Say hello to 16 grams of sugar instead.
And don't even think about the flavored ones unless you want to double those 16 grams.
Sugar-Free Treats
A treat is a treat no matter what. So, in the hopes of making a sale, manufacturers took out the sugar and kept the taste of everyone's favorites by adding fat.
Take a sugar-free cookie, for starters. Ever wonder how it still has 160 calories? Check the back of the label. See those grams of fat?
Trail Mix 
They're everywhere. They're supposed to be healthy and to an extent, they are.
A trail mix is a super food because there are carbs and fiber in a handful of serving for energy and feeling of fullness helping you manage your weight.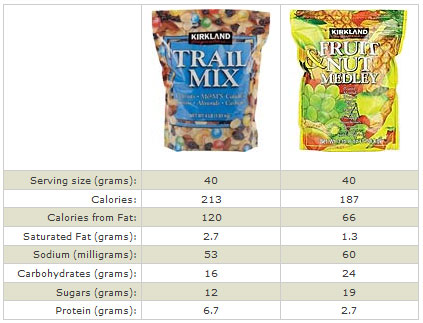 A trail mix is great but only if you make your own. The moment you get the one straight from the store, you'll also pay for the added sugar and fat. Check the ingredients.
Vegetable Crisps
Forget vegetable crisps and grab potato chips instead. If you want more fiber, well, get the vegetable crisps but don't get surprised if it shows on the scale.
Vegetable crisps have a lot of calories brought about by fat and sodium. And shocker of shockers, check what you're eating. Some vegetable crisps in the market are potato flour with food coloring to look like your favorite crisps.
Fancy Sushi Rolls 
The more expensive a sushi roll, the more fattening it is.
Basic sushi rolls only have rice, seaweed, raw fish and vegetables.
The moment you add condiments like mayo and cheese, that's not a health food anymore you're paying for.
Smoothies 
Honestly, perfect smoothies almost always mean high calories.
It's not uncommon to get a smoothie with 500 calories to boot.
Watch out your serving every time you get this one.
Popcorn
Make your own. The air-popped variety is one of the tastiest, good old-fashioned snacks with its fiber, protein, iron, magnesium, potassium and vitamin B6, just like the way popcorn should be.
However, the moment you buy outside, sellers have to justify the added butter by their price.
Say goodbye to calorie counting.
Diet Soda 
Diet soda is a proof that you just can't fool nature.
Though it's got the word "diet" in its label, studies proved that because the body senses a saccharine taste, it's going to expect something to happen, like get a little satisfaction even from just a few amount of calories from that sugary taste. Since diet soda has 0 calories, the body will crave for something just to satisfy this newly triggered craving.
You'll still get your dreaded extra calories.
Advertisement